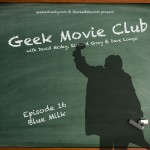 In this episode the boys talk about Christopher Nolan's film obsession, Han Solo's broken leg and potential Star Wars Episode VII spoilers for a film that we know nothing about. If you need more, Richard and Dave finish off the Sydney Film Festival recap and a deep discussion about online piracy and the broken TV model of distribution starts up in the What We've Been Watching segment. Oh, yeah… just for good measure Richard and Dave review 22 Jump Street. So much entertainment, it took 80 minutes to contain it. This is The Geek Movie Club, the podcast that couldn't think of anything witty to say this week… just a reminder, this podcast is for mature (and immature) listeners!
Podcast: Play in new window | Download
Your hosts are David McVay, Richard Gray and Dave Longo. If you have feedback for the show shoot an email to feedback@geekmovieclub.com or drop us a voice mail on Skype (user ID: geekactually), we would love to hear from you.
Our Opening Theme Created by Adrian Dal Bianco
Subscribe for free on iTunes and never miss an episode.