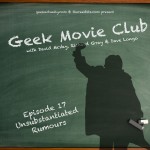 In this episode, Guillermo del Toro announces Pacific Rim 2 and a Pacific Rim animated series and Doctor Who gets a release date. Also, all the Unsubstantiated Rumours for Star Wars Episode VII that are fit to talk about and Richard reviews Transformers: Age of Extinction and Jersey Boys. If this wasn't enough the boys also review Doug Liman's new film Edge of Tomorrow. So much entertainment, it took 51 minutes to contain it. This is The Geek Movie Club, the podcast that is almost legal… just a reminder, this podcast is for mature (and immature) listeners!
Podcast: Play in new window | Download
Your hosts are David McVay, Richard Gray and Dave Longo. If you have feedback for the show shoot an email to feedback@geekmovieclub.com or drop us a voice mail on Skype (user ID: geekactually), we would love to hear from you.
Our Opening Theme Created by Adrian Dal Bianco
Subscribe for free on iTunes and never miss an episode.