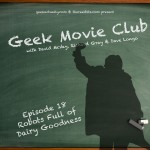 In this episode David finally gets a gavel sound effect, Longo tells us his opinions on Transformers: Age of Extinction and introduces us to Nathan For You, Richard is still watching Doctor Who and David finally watched Life of Pi. Also, while Richard and David were in Melbourne they got to see Alien on the big screen at the wonderful Astor Theatre and they got a Q&A with Tom Skerritt. If this wasn't enough the boys also review Dawn of the Planet of the Apes. So much entertainment, it took 62 minutes to contain it.
This is The Geek Movie Club, the podcast that, in Australia, is now legally allowed to drink and drive. Just a reminder, this podcast is for mature (and immature) listeners!
Podcast: Play in new window | Download
Your hosts are David McVay, Richard Gray and Dave Longo. If you have feedback for the show shoot an email to feedback@geekmovieclub.com or drop us a voice mail on Skype (user ID: geekactually), we would love to hear from you.
Our Opening Theme Created by Adrian Dal Bianco
Subscribe for free on iTunes and never miss an episode.