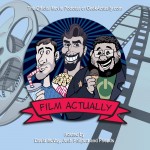 We're Back Bitches!!!! This week Hollywood Sequalises, remakes or prequels everything, Kevin Smith releases a trailer for Tusk, Josh re-enters the Bargain Basement and we have a pair of film reviews, Brett Ratner's Hercules and Snowpiercer. Film Actually is the official movie podcast of geekactually.com.
Hosts: David McVay, Josh Philpott, Richard Gray and Dave Longo
If you are an iTunes user, please leave a review. Your comments help us improve the show.
This show carries an explicit tag due to coarse language.
Podcast: Play in new window | Download
Listen or download it here or subscribe to it on iTunes
News
A Thunderbirds remake is on the cards
http://www.slashfilm.com/weta-thunderbirds-remake-comic-con/
and speaking remakes… Heavy Metal anyone?
http://www.slashfilm.com/heavy-metal-teaser-poster/
and if that doesn't grab you, how about a King Kong prequel?
http://www.slashfilm.com/skull-island-movie/
and finally… a live action CG Hybrid Spongebob?!? WTF!
http://www.slashfilm.com/live-action-spongebob-squarepants-movie/
The Trailer for Kevin Smith's Tusk
https://www.youtube.com/watch?v=trTTjvPCLJQ
Feature Film Review 1
Hercules directed by Brett Ratner and written by Ryan Condal and Evan Spiliotopoulos based on the Radical Comics comic. It stars Dwayne Johnson, Ian McShane, John Hurt and Rufus Sewell, Joseph Fiennes.
Having endured his legendary twelve labors, Hercules, the Greek demigod, has his life as a sword-for-hire tested when the King of Thrace and his daughter seek his aid in defeating a tyrannical warlord. Source: IMDB
Watch the trailer here: https://www.youtube.com/watch?v=OwlynHlZEc4
Feature Film Review 2
Snowpiercer directed by Joon-ho Bong and written by Joon-ho Bong and Kelly Masterson based on the graphic novel. It stars Chris Evans, Kang-ho Song, Ed Harris, John Hurt, Tilda Swinton, Jamie Bell and Alison Pill.
Set in a future where a failed climate-change experiment kills all life on the planet except for a lucky few who boarded the Snowpiercer, a train that travels around the globe, where a class system emerges. Source: IMDB
Watch the trailer here: https://www.youtube.com/watch?v=nX5PwfEMBM0
Agree or disagree with us or you just have something to say? send email to feedback@filmactually.com or drop us a voicemail at 02 8011 3167 or use the Skype ID: geekactually.
The Rest…
Join us on our Facebook Fan Page: facebook.com/GeekActually or follow Geek Actually on Twitter @geekactually
The Reel Junkies podcast can be found at weekendronin.com
Find out more about Josh's other stuff by visiting RawDLC.com or follow him on Twitter @DoGM3At
Find more by Richard Gray by visiting theReelBits.com or behindthepanels.net or follow him on Twitter @DVDbits
Find more by David Longo by visiting damngoodcup.com or behindthepanels.net or follow him on Twitter @davelongo
We are closing the show with part of Marco Beltrami's score for Snowpiercer.
The opening clip is from "Lethal Weapon 2".
Go see more movies, you don't see enough movies and all of life's questions are answered in the movies.