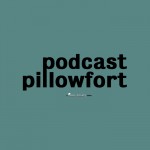 Welcome to the very first episode of PODCAST PILLOWFORT!
We're going to talk about what's happening in the world of podcasts we'll have our first ever Podcast Smackdown! We will induct our first entrant into The Pillowfort Hall of Fame and finally we will finish up with the things we learned this week.
So grab your headphones, a tall drink and join us in the Pillowfort!
Your Hosts: Amy Barker and Richard Gray
Podcast: Play in new window | Download
This weeks Smackdown
This week, we look at two food and drink podcasts – Mike and Tom Eat Snacks (Nerdist), hosted by Michael Ian Black and Tom Cavanagh and A Taste of the Past (Heritage Radio Network), hosted by Linda Pelaccio.
For full show notes go to PodcastPillowfort.com