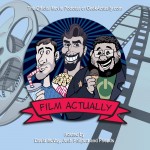 We're Back Again Bitches!?!? This week Kevin Smith's new film "Tusk" goes into our Point/Counterpoint sights, "The Hobbit: The Battle of Five Armies" gets a new trailer, we finally got to see the new documentary "Electric Boogaloo: The Wild, Untold Story of Cannon Films" and we review Christopher Nolan's new epic "Interstellar". Film Actually is the official movie podcast of geekactually.com.
Hosts: David McVay, Dave Longo and Richard Gray
If you are an iTunes user, please leave a review. Your comments help us improve the show.
This show carries an explicit tag due to coarse language.
Podcast: Play in new window | Download
Listen or download it here or subscribe to it on iTunes
What We've Been Watching
"Electric Boogaloo: The Wild, Untold Story of Cannon Films" by Mark Hartley. Disney's "Big Hero 6". On TV, "Sons of Anarchy" and "Constantine".
News
There is a lot of Paul Walker in "Furious 7"!
https://www.youtube.com/watch?v=Skpu5HaVkOc
"Star Wars Episode 7" gets a name! "The Force Awakens"
"The Hobbit: The Battle of Five Armies" gets a full trailer
http://www.youtube.com/watch?v=iVAgTiBrrDA
Point/Counterpoint
Kevin Smith's "Tusk"
Watch the trailer here
http://www.youtube.com/watch?v=60EUG-CDC_k
Feature Film Review
'Interstellar' directed by Christopher Nolan and written by Christopher and Jonathan Nolan. It stars Matthew McConaughey, Anne Hathaway, Jessica Chasten and Michael Cain.
A group of explorers make use of a newly discovered wormhole to surpass the limitations on human space travel and conquer the vast distances involved in an interstellar voyage. Source: IMDB
Watch the trailer here:
http://www.youtube.com/watch?v=zSWdZVtXT7E
Agree or disagree with us or you just have something to say? send email to feedback@filmactually.com or drop us a voicemail at (02) 8011 4167 or use the Skype ID: geekactually.
The Rest…
Love comic books? Listen to our other show Behind The Panels at behindthepanels.net It's like Oprah's Book Club but, you know, for nerds!
Love Podcasts? Check out Amy and Richard's new show Podcast Pillowfort at podcastpillowfort.com it's a podcast about podcasts!
Find these great shows, get merchandise, join the Facebook fan page or follow us on Twitter by going to geekactually.com.
Find more Dave at damngoodcup.com or on Twitter @davelongo
Find more Richard at TheReelBits.com or BehindThePanels.net or on Twitter @DVDbits
Find more me at geekactually.com or on Twitter @davidmcvay
weekendronin.com for Reel Junkies – a podcast like ours but fueled by tequila!
Find out more about our cartoonist Josh Spencer over at http://attackninja.blogspot.com/
Because the score to "Interstellar" has not been released yet, I thought we could play another great opus of space by none other than the king of soundtracks John Williams.
The opening clip is from "Cobra" by Cannon Films.
Go see more movies, you don't see enough movies and all of life's questions are answered in the movies.