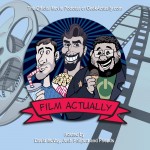 This week The Stand gets the multi film treatment, Steve Jobs dropped from Sony and a movie legend dies. Plus we review another un-reviewable film The Hunger Games: Mockingjay Part 1.
 Film Actually is the official movie podcast of geekactually.com.
Hosts: David McVay, Dave Longo and Richard Gray
If you are an iTunes user, please leave a review. Your comments help us improve the show.
This show carries an explicit tag due to coarse language.
Podcast: Play in new window | Download
Listen or download it here or subscribe to it on iTunes
What We've Been Watching
The Sword and the Sorcerer, The Hobbit Special Features, Wanted and Richard's Adventures in Time and Space.
News
The Stand to be multiple films.
http://www.slashfilm.com/the-stand-four-movies/
Aaron Sorkin's Steve Jobs film dropped by Sony
http://deadline.com/2014/11/steve-jobs-sony-pictures-turnaround-universal-1201289686/
Paul Greengrass is set to direct a new version of 1984… 30 years too late!
http://www.firstshowing.net/2014/paul-greengrass-to-direct-new-adaptation-of-george-orwells-1984/
And finally, a great loss, The Graduate director Mike Nichols dies at 83
http://www.firstshowing.net/2014/the-graduate-the-birdcage-director-mike-nichols-is-dead-at-83/
Feature Film Review
The Hunger Games: Mockingjay Part 1 directed by Francis Lawrence and written by Peter Craig and Danny Strong based on Suzanne Collins novel. It stars Jennifer Lawrence, Josh Hutcherson, Liam Hemsworth, Woody Harrelson, Donald Sutherland, Elizabeth Banks, Julianne Moore and the late Philip Seymour Hoffman.
When Katniss destroys the games, she goes to District 13 after District 12 is destroyed. She meets President Coin who convinces her to be the symbol of rebellion, while trying to save Peeta from the Capitol. Source: IMDB
Watch the trailer here:
http://www.youtube.com/watch?v=C_Tsj_wTJkQ
Agree or disagree with us or you just have something to say? send email to feedback@filmactually.com or drop us a voicemail at (02) 8011 4167 or use the Skype ID: geekactually.
The Rest…
Love comic books? Listen to our other show Behind The Panels at behindthepanels.net It's like Oprah's Book Club but, you know, for nerds!
Love Podcasts? Check out Amy and Richard's new show Podcast Pillowfort at podcastpillowfort.com it's a podcast about podcasts!
Find these great shows, get merchandise, join the Facebook fan page or follow us on Twitter by going to geekactually.com.
Find more Dave at damngoodcup.com or on Twitter @davelongo
Find more Richard at TheReelBits.com or BehindThePanels.net or on Twitter @DVDbits
Find more me at geekactually.com or on Twitter @davidmcvay
weekendronin.com for Reel Junkies – a podcast like ours but fueled by tequila!
Find out more about our cartoonist Josh Spencer over at http://attackninja.blogspot.com/
We finish the show today with a little piece of James Newton Howard's score from "The Hunger Games: Catching Fire". The opening clip is from "The Hunger Games".
Go see more movies, you don't see enough movies and all of life's questions are answered in the movies.