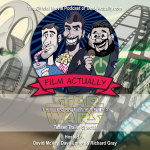 A Bonus for you guys! The first teaser trailer for Star Wars The Force Awakens has arrived and this is our reaction to the splendid work of a Mr. J.J. Abrams. We discuss the teaser and what it all means to us, the geeks of Geek Actually.
Haven't seen the teaser yet?!? Watch it below.
 Film Actually is the official movie podcast of geekactually.com.
Hosts: David McVay, Dave Longo and Richard Gray
If you are an iTunes user, please leave a review. Your comments help us improve the show.
This show carries an explicit tag due to coarse language.
Podcast: Play in new window | Download
Listen or download it here or subscribe to it on iTunes