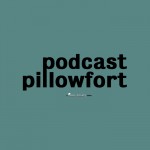 Welcome to PPFt, your quick discussion about short podcasts. In this PPFt mini episode, we talk about Radiolab Shorts.
There are 2 types of short podcasts: podcasts that have shorter versions of their episode normal shows, such as Pop Culture Happy Hour, Extra Hot Great, Radiolab) and those which are short to begin with like 2 Minute Time Lord, Quick and Dirty tips from Grammar Girl, and the Onion Radio News Weekly World Report.
Radiolab Shorts. Radiolab is a radio show and podcast weaving stories and science into sound and music-rich documentaries. It's podcasts are downloaded over 4 million times every month, plus being heard across NPR and affiliates. Their definition of 'Shorts' is variable – from 15 minutes to well over half-an-hour – but they do manage to tackle some pretty esoteric subjects as a result.
So grab a short glass, and join us in the Pillowfort.
Your Hosts: Amy Barker and Richard Gray
Podcast: Play in new window | Download
For full show notes go to PodcastPillowfort.com