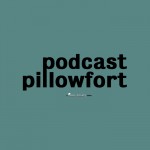 Welcome to PPFt, your quick discussion about short podcasts. In this PPFt mini episode, we talk about Pop Culture Happy Hour Small Batch.
There are 2 types of short podcasts: podcasts that have shorter versions of their episode normal shows, such as Pop Culture Happy Hour, Extra Hot Great, Radiolab) and those which are short to begin with like 2 Minute Time Lord, Quick and Dirty tips from Grammar Girl, and the Onion Radio News Weekly World Report.
Quirks and Quarks Segmented Show is the award-winning radio science show of the Canadian Broadcasting Corporation (CBC). Covering  "the quirks of the expanding universe to the quarks within a single atom… and everything in between", the half-a-million listeners in Canada is expanded by the podcasts, which are also handily available in segmented versions to narrow in on whatever your particular interest might be.
So grab a short glass, and join us in the Pillowfort.
Your Hosts: Amy Barker and Richard Gray
Podcast: Play in new window | Download
For full show notes go to PodcastPillowfort.com