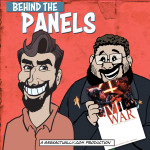 In this issue, Channing Tatum is getting his own solo movie as Gambit. We can't wait to see Jonah Hill as Wolverine. ALSO Scarlett Johannson is officially a Ghost in the Shell. We know she's not the greatest actor, but that's a little harsh. THEN it's the tiny adventures of Ant-Man, the nutty outings of Squirrel Girl, the Agent Carter premiere and more in what We've Been Reading and Watching. ADDITIONALLY the Ant-Man teaser trailer gets the Trailer Commentary treatment.
PLUS Our Kick-Ass Pick of the Week: Civil War – A Marvel Comics Event. We're back for 2015. This is Behind The Panels.
Your Hosts: Richard Gray, David McVay, and Dave Longo.
Next Week (125): Teen Titans: Earth One by Jeff Lemire
Podcast: Play in new window | Download
For show notes in detail head over to Behind The Panels