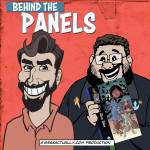 This week, Time Warner has announced a superhero themed casino opening in a Chinese resort. Because if there's one thing Batman loves, it's gambling addiction. ALSO it's reportedly trouble aboard the Fantastic Four set. Insiders are already calling the Josh Trank reboot "a movie". THEN it's Star Wars, Peggy Carter and more in What We've Been Reading and Watching, the new Avengers: Age of Ultron trailer gets a patented Trailer Commentary.
PLUS our Kick-Ass Pick of the Week: TEEN TITANS: EARTH ONE by Jeff Lemire, Terry Dodson and Rachel Dodson.
Your Hosts: Richard Gray, David McVay, and Dave Longo.
Next Week (126): Awkwood by Jase Harper (Milk Shadow Books)
Podcast: Play in new window | Download
For show notes in detail head over to Behind The Panels