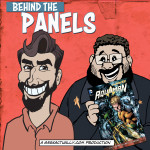 In this issue, DC announces it's post-Convergence line-up with dozens of new titles. At last: we can buy books for Bat-Mite, Prez and Mystic U. THEN we go Postal, welcome the return of Saga, and watch the Black Vortex epic unfold in What We've Been Reading. ALSO it's the Man Without Fear in our patented trailer commentary for Marvel's Daredevil series.
PLUS Our Kick-Ass Pick of the Week: AQUAMAN: THE TRENCH by Geoff Johns, Ivan Reis and Joe Prado, with our very Special Guest Louie Joyce. This is Behind The Panels.
Your Hosts: Richard Gray, David McVay, Dave Longo and Special Guest: Louie Joyce
Next Week (129): Watson and Holmes: A Study in Black Recording LIVE at Good Games Hurstville Sydney (11 February 2015).
Podcast: Play in new window | Download
For show notes in detail head over to Behind The Panels