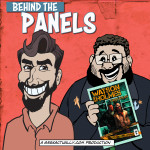 Welcome to BEHIND THE PANELS Issue 129, the comic book show that's coming to you live from Good Games Hurstville.
In this issue, Spider-Man joins the Marvel Cinematic Universe. Sony and Marvel have finally combined forces to break the Internet. THEN it's Darth Vader, Empty, Divinity and The Walking Dead in What We've Been Reading and Watching.
PLUS our Kick-Ass Pick of the Week: WATSON AND HOLMES: A STUDY IN BLACK by Karl Bollers with art by Rick Leonardi and Larry Stroman. This is BEHIND THE PANELS: LIVE.
Your Hosts: Richard Gray, David McVay, Dave Longo and guest Jamie Lawrence (Owner/Manager Good Games Hurstville)
Next Week (130): Spider-Verse: A Marvel Comics Event
Podcast: Play in new window | Download
For show notes in detail head over to Behind The Panels