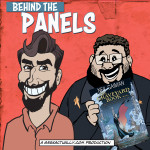 Welcome to Behind The Panels, the comic book show that's comic to you live from Good Games Hurstville.
In this issue, there's more gravy than grave about us as we dip into Bill and Ted, Southern Cross, Postal, The Walking Dead and more in What We've Been Reading and Watching. THEN we recast the Marvel Universe in a baffling new edition of John Dee's™ Geek Related Challenge Or Something.
PLUS our Kick-Ass Pick of the Week: THE GRAVEYARD BOOK by Neil Gaiman, adapted by P. Craig Russell and a whole host of artists. This is BEHIND THE PANELS.
Your Hosts: Richard Gray, David McVay and guest Jaime Lawrence.
Next Week (134): Dazzler: The Movie
Podcast: Play in new window | Download
For show notes in detail head over to Behind The Panels