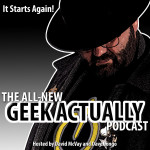 Welcome to the All-New Geek Actually Podcast
This is the return of Geek Actually's original show about everything and anything from a geek's perspective. This week we talk some news, a Film Actually review ("Chappie"), talk about how robots plan to wipe us out and find out what's new in the world of weird food.
We are back like a Phoenix from the ashes!
Hosted by: David McVay and Dave Longo
As always this episode carries an explicit tag due to possible bad language.
Podcast: Play in new window | Download
SHOWNOTES
Headlines About Stuff We Don't Care About
Gossip Mag Headlines!
Now The Real News
New Anti-Piracy Laws to Hit Australia… Torrenters beware!
http://www.gizmodo.com.au/2015/02/how-australian-internet-providers-will-start-busting-users-for-piracy/
Who says Computer games will get you nowhere.
http://www.gizmodo.com.au/2015/02/watch-a-team-of-former-gamers-take-out-the-bathurst-12-hour-endurance-race/
Sci-Fi nanites are really not that far away
http://www.gizmodo.com.au/2015/02/tiny-robot-grippers-dissolve-away-in-your-body-once-their-job-is-done/
Whoa! Back to the Future is here, where's my hover board?
http://www.gizmodo.com.au/2015/03/this-real-life-mr-fusion-can-turn-leftovers-into-energy/
Ever wanted to be The Six Million Dollar Man?
http://www.gizmodo.com.au/2015/02/this-contact-lens-can-zoom-in-with-a-wink-of-the-eye/
The Impending Robot Apocalypse
We here at Geek Actually Central don't believe in the fairy tale that is a zombie apocalypse, however we have been collecting evidence for years that The Impending Robot Apocalypse is not that far away. Beware, what follows is more proof!
Oh those whacky Japanese…they're making WestWorld
http://www.gizmodo.com.au/2015/02/welcome-to-the-robot-staffed-resort-of-the-future/
And on a serious note, let's not teach the very smart AI computers about religion, down that path there be dragons!
http://www.gizmodo.com.au/2015/02/when-superintelligent-ai-arrives-will-religions-try-to-convert-it/
Introducing Spot
http://sourcefed.com/boston-dynamics-close-to-replacing-your-dog-with-their-robot/
Film Actually
What we've been watching
Once Upon a Time, Star Trek, Better Call Saul
News
First Star Wars spin of film gets a name
http://variety.com/2015/film/news/star-wars-episode-viii-gets-release-date-spinoff-movie-called-rogue-one-1201451449/
Film Review
'Chappie' directed by Neill Blomkamp and written by Neill Blomkamp and Terri Tatchell. It stars Sharlto Copley, Dev Patel, Hugh Jackman, Sigourney Weaver and unfortunately Ninja and Yo-Landi Visser.
In the near future, crime is patrolled by a mechanized police force. When one police droid, Chappie, is stolen and given new programming, he becomes the first robot with the ability to think and feel for himself. Source: IMDB
Watch the trailer here:
?https://www.youtube.com/watch?v=XQpA-BPCabI
And, yeah, there is a spoiler zone.
Weird Food
Forget biggest or tastiest, here is the oldest hamburger
?http://www.news.com.au/entertainment/tv/australians-dean-and-eduard-nitz-lay-claim-to-worlds-oldest-burger/story-e6frfmyi-1227221753700
And Finally, Just because we can…
Wankband!
http://www.gizmodo.com.au/2015/02/finally-a-wearable-that-lets-you-charge-your-gadgets-by-jerking-off/
Agree or disagree with us or you just have something to say? send email to feedback@geekactually.com or drop us a voicemail at 02 8011 4167
Housekeeping
Love comic books? Listen to our other show Behind The Panels at behindthepanels.net
Love Podcasts? Podcast Pillowfort at podcastpillowfort.com it's a podcast about podcasts!
Find these great shows, get merchandise, join the Facebook fan page or follow us on Twitter by going to geekactually.com.
Find more Dave at damngoodcup.com or on Twitter @davelongo
Find more me at geekactually.com or on Twitter @davidmcvay
A big thanks go out to Anth Cahill for re-working The Geek Actually Theme
GEEK ON!