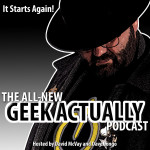 Welcome to the All-New Geek Actually Podcast
Welcome to the All-New Geek Actually Podcast – The podcast that was in hyper sleep but was awakened early by a distress call from LV-426! Yes, that's right folks it's the podcast that is simultaneously about everything and nothing, from a geek's perspective. This week we talk about privacy, weird food and creepy tech that may want to kill us. In the Film Actually segment we review Tim Burton's new film, Big Eyes and talk about how IMAX is going to get David back into their cinemas.
Hosted by: David McVay and Dave Longo
As always this episode carries an explicit tag due to possible bad language.
Podcast: Play in new window | Download
SHOWNOTES
Who's really in charge? Australia wants to introduce Site Blocking.
http://www.itnews.com.au/News/401763,brandis-to-introduce-site-blocking-legislation-this-week.aspx
Data Retention law does my head in.
http://www.gizmodo.com.au/2015/03/what-safeguards-are-in-australias-data-retention-plans/
Spy Planes, oh dear. When did we lose all our freedoms?
http://www.gizmodo.com.au/2015/03/cia-helped-us-justice-department-build-spy-planes-to-snoop-on-phones/
People are finally getting sick of being spied on, 'bout time I say.
http://www.gizmodo.com.au/2015/03/wikipedia-just-joined-the-list-of-pissed-off-organisations-suing-the-nsa/
And the rest…
Get your own Holocron soon!
http://www.gizmodo.com.au/2015/03/this-jedi-holocron-quiz-toy-knows-more-about-star-wars-than-you-do/
Wil.i.am is a cosmic whack-a-doodle or visionary prophet? You decide.
http://www.gizmodo.com.au/2015/03/william-really-wants-you-to-stop-and-think-before-you-3d-print-a-human/
The Impending Robot Apocalypse
We here at Geek Actually Central don't believe in the fairy tale that is a zombie apocalypse, however we have been collecting evidence for years that The Impending Robot Apocalypse is not that far away. I, for one, salute our robot overlords!
Self powered liquid metal. Stop you insane people!
http://www.gizmodo.com.au/2015/03/this-liquid-metal-motor-moves-under-its-own-power/
And now they will be disguised!
http://www.gizmodo.com.au/2015/03/scientists-have-just-invented-synthetic-chameleon-skin/
Film Actually
What we've been watching
Once again, Once Upon a Time and Star Trek!
Entertainment News
Australian viewers watch more Australian content than US… I have a theory.
http://www.news.com.au/entertainment/tv/aussie-viewers-snub-american-tv-shows-in-favour-of-locally-made-programs-such-as-my-kitchen-rules/story-fnk8579h-1227263844350
I may start going to IMAX again. New Laser projector tech is cool.
http://www.gizmodo.com.au/2015/03/imaxs-new-laser-projectors-make-me-wish-i-lived-in-a-movie-theater/
In a bit I'd like to call Mash-Ups and Stylistic Choices we have
http://www.firstshowing.net/2015/sony-pictures-picks-up-epic-300-style-retelling-of-romeo-juliet/ or http://www.firstshowing.net/2015/ninja-turtles-director-taking-on-unforgiven-esque-king-arthur-tale/
And finally, Dave doesn't like watching trailers and I can respect that… kind of. I won't play it here but everyone else, go check out the new TV spot for "The Avengers: Age of Ultron". It will blow your fucking mind!
http://www.firstshowing.net/2015/tons-more-footage-in-new-the-avengers-age-of-ultron-tv-spot/
Film Review
'Big Eyes' directed by Tim Burton and written by Scott Alexander and Larry Karaszewski. It does not star Johnny Depp or Helena Bonham Carter, instead it stars Christoph Waltz and Amy Adams. It also stars Krysten Ritter, Danny Huston, Jason Schwartzman, Terrance Stamp and Jon Polito.
A drama about the awakening of the painter Margaret Keane, her phenomenal success in the 1950s, and the subsequent legal difficulties she had with her husband, who claimed credit for her works in the 1960s. Source: IMDB
Watch the trailer here:
https://www.youtube.com/watch?v=2xD9uTlh5hI
Weird Food
What the rest of the world eats! Not for the feint of heart or weak of stomach!
http://www.news.com.au/travel/travel-ideas/is-this-the-worlds-weirdest-food/story-fnjpja3r-1227247719894
And Finally, Just because we can…
Erotic fiction just got weirder.
http://www.the42.ie/conquered-by-clippy-short-story-1991575-Mar2015/?r_dir_d=1
Agree or disagree with us or you just have something to say? send email to feedback@geekactually.com or drop us a voicemail at 02 8011 4167
Housekeeping
Love comic books? Listen to our other show Behind The Panels at behindthepanels.net
Love Podcasts? Podcast Pillowfort at podcastpillowfort.com it's a podcast about podcasts!
Find these great shows, get merchandise, join the Facebook fan page or follow us on Twitter by going to geekactually.com.
Find more Dave at damngoodcup.com or on Twitter @davelongo
Find more me at geekactually.com or on Twitter @davidmcvay
A big thanks go out to Anth Cahill for re-working The Geek Actually Theme
GEEK ON!