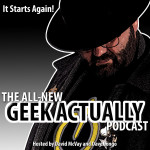 Welcome to the All-New Geek Actually Podcast
Welcome to the All-New Geek Actually Podcast – The podcast about everything and nothing, from a geek's perspective. This week we talk about tech recycling, clever banking, 56k modems, weird food, Star Trek and creepy robot hosts for kid's TV. In the Film Actually segment we review Disney's new big budget, Cinderella and talk about how Netflix is going to take over the world.
Hosted by: David McVay and Dave Longo
As always this episode carries an explicit tag due to possible bad language.
Podcast: Play in new window | Download
SHOWNOTES
Update
Data Retention Laws pass and are now law.
http://www.gizmodo.com.au/2015/03/data-retention-bill-passes-parliament/
And now the FBI can spy on anyone, anywhere
http://www.gizmodo.com.au/2015/03/new-policy-will-grant-fbi-power-to-install-tracking-malware-on-computers-worldwide/
Hot Topic: Recycling our Tech Mess
What does happen to all that old tech?
http://www.gizmodo.com.au/2015/03/watch-your-dead-tech-get-demolished-at-an-e-waste-recycling-plant/
Precious metals anyone.
http://www.gizmodo.com.au/2015/03/this-designer-uses-the-silver-inside-all-the-gadgets-we-throw-away/
And the rest…
Clever banking!
http://www.gizmodo.com.au/2015/03/withdrawing-cash-with-a-smartphone-could-beat-the-card-skimmers/
God love them, no one wastes more money or time than hard core geeks.
http://www.gizmodo.com.au/2015/03/this-guy-played-real-life-space-invaders-with-a-laser-cutter/
A week at 56K
http://www.gizmodo.com.au/2015/03/i-used-a-56k-modem-for-a-week-and-it-was-hell-on-earth/
The Impending Robot Apocalypse
We here at Geek Actually Central don't believe in the fairy tale that is a zombie apocalypse, however we have been collecting evidence for years that The Impending Robot Apocalypse is not that far away. I, for one, salute our robot overlords!
Please god, save the children!
http://www.hollywoodreporter.com/news/robot-presenting-japanese-childrens-tv-783895?utm_source=twitter
Anti-Robot Protests… maybe we should sign up.
http://techcrunch.com/2015/03/14/anti-robot-protest-held-at-sxsw/
Film Actually
What we've been watching
Netflix (more on this in a minute), The IT Crowd, Get Hard and Star Trek!
Entertainment News
Geeky shows not on Netflix Australia
http://www.gizmodo.com.au/2015/03/i-chose-20-geeky-tv-shows-and-found-none-of-them-available-on-netflix-australia/
Reed Hastings, I love this man!
http://www.gizmodo.com.au/2015/03/netflix-ceo-reed-hastings-on-the-nbn-piracy-and-launching-in-australia/
Mallrats 2 is coming together fast! Sailboat!
http://www.firstshowing.net/2015/jeremy-london-ethan-suplee-confirmed-to-return-for-mallrats-2/
http://www.firstshowing.net/2015/kevin-smith-confirms-return-of-jason-lee-others-for-mallrats-2/
Steven Spielberg will take on Ready Player One
http://www.firstshowing.net/2015/steven-spielberg-heading-back-to-big-sci-fi-with-ready-player-one/
First look at The Thing in Fantastic Four
http://www.firstshowing.net/2015/fantastic-four-international-banner-finally-shows-off-the-thing/
First Look Jesse Eisenberg as Lex Luthor
http://www.firstshowing.net/2015/first-look-jesse-eisenberg-as-lex-luthor-in-batman-v-superman/
First Look at Deadpool
http://collider.com/deadpool-costume-image-ryan-reynolds/
How did they finish Fast and Furious 7 anyway?
http://www.firstshowing.net/2015/paul-walkers-furious-7-role-completed-with-old-franchise-footage/
And finally, a couple of casting bits, Idris Elba is in talks for a villain role for the Star Trek 3 and Ben Mendelsohn is possibly in talks for lead role in Star Wars Rogue One.
Film Review
'Cinderella' directed by Kenneth Branagh and written by Chris Weitz. It stars Lily James, Richard Madden, Cate Blanchett, Stellan Skarsgard and Helena Bonham Carter. Plus appearances by Derek Jacobi, Ben Chaplin and, be still my heart Hayley Atwell.
When her father unexpectedly passes away, young Ella finds herself at the mercy of her cruel stepmother and her daughters. Never one to give up hope, Ella's fortunes begin to change after meeting a dashing stranger. Source: IMDB
Watch the trailer here:
https://www.youtube.com/watch?v=20DF6U1HcGQ
Weird Food
The return of a favourite!!
http://cookingwithcum.com
And Finally, Just because we can…
Internet Eating
http://www.gizmodo.com.au/2015/02/you-can-pay-to-watch-strangers-eat-on-the-internet-in-south-korea/
and Will Ferrell
http://www.firstshowing.net/2015/will-ferrell-sings-the-signature-star-trek-theme-song-like-an-angel/
Agree or disagree with us or you just have something to say? send email to feedback@geekactually.com or drop us a voicemail at 02 8011 4167
Housekeeping
Love comic books? Listen to our other show Behind The Panels at behindthepanels.net
Love Podcasts? Podcast Pillowfort at podcastpillowfort.com it's a podcast about podcasts!
Find these great shows, get merchandise, join the Facebook fan page or follow us on Twitter by going to geekactually.com.
Find more Dave at damngoodcup.com or on Twitter @davelongo
Find more me at geekactually.com or on Twitter @davidmcvay
A big thanks go out to Anth Cahill for re-working The Geek Actually Theme. For more about him shoot over to www.wolfe-rayet.com
GEEK ON!