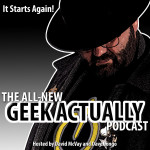 Welcome to the All-New Geek Actually Podcast
Welcome to the All-New Geek Actually Podcast – This week we talk about Artificial Intelligence, The Three Strikes Law, ID4 2, Mark Ruffalo, Star Trek, Japanese game shows and the Star Wars trailer! We also have some weird food and a film review of "While We're Young".
And Richard Gray is back too!
Hosted by: David McVay and Dave Longo with guest Richard Gray
As always this episode carries an explicit tag due to possible bad language.
Podcast: Play in new window | Download
SHOWNOTES
Tech and Geek News
Ex Machina seems to have gotten the science right.
http://www.gizmodo.com.au/2015/04/this-movies-realistic-ai-scared-the-shit-out-of-me/
What is the current state of torrenting now?
http://www.gizmodo.com.au/2015/04/iinet-lost-its-fight-against-dallas-buyers-club/
http://www.gizmodo.com.au/2015/04/iinet-lost-to-dallas-buyers-club-what-happens-next/
How does the Three Strikes Law work?
http://www.gizmodo.com.au/2015/04/australias-new-anti-piracy-code-is-being-signed-off-by-acma/
And just to add insult to injury…
http://www.gizmodo.com.au/2015/04/australian-government-considering-implementing-gst-on-overseas-purchases-netflix-subscriptions/
The Impending Robot Apocalypse
We here at Geek Actually Central don't believe in the fairy tale that is a zombie apocalypse, however we have been collecting evidence for years that The Impending Robot Apocalypse is not that far away. I, for one, salute our robot overlords!
I see dead people!
http://www.dailymail.co.uk/sciencetech/article-3022251/Google-patents-download-robot-personalities-says-one-day-able-download-apps-replicate-celebrity-deceased-loved-one.html
Film Actually
What we've been watching
Daredevil and more Star Trek!
Entertainment News
Judd Hirsh and Bill Pullman are back for Independence Day 2
http://www.firstshowing.net/2015/judd-hirsch-bill-pullman-are-both-back-for-independence-day-2/
Zemeckis adapts another award winning documentary
http://www.firstshowing.net/2015/steve-carell-joins-robert-zemeckis-adaptation-of-marwencol-doc/
The second Star Wars The Force Awakens trailer hits. 'nuff said
https://www.youtube.com/watch?v=ngElkyQ6Rhs
Patty Jenkins left Marvel and has now joined DC
http://www.hollywoodreporter.com/heat-vision/wonder-woman-movie-finds-a-789099
Mark Ruffalo reveals why there is no stand alone Hulk film yet.
http://collider.com/new-hulk-solo-movie-mark-ruffalo-says-universal-owns-the-rights/
Film Review
'While We're Young' written and directed by Noah Baumbach. It stars Ben Stiller, Naomi Watts, Adam Driver and Amanda Seyfried.
A middle-aged couple's career and marriage are overturned when a disarming young couple enters their lives. Source: IMDB
Watch the trailer here:
https://www.youtube.com/watch?v=v726Dufa3IU
Weird Food
Chocobatch!!!
http://www.gizmodo.com.au/2015/04/this-life-size-benedict-cumberbatch-was-made-with-500-bars-of-chocolate/
And Finally, Just because we can…
More unbelievable Japanese game shows.
http://gawker.com/japanese-late-night-show-makes-guys-sing-karaoke-while-1698217692
Agree or disagree with us or you just have something to say? send email to feedback@geekactually.com or drop us a voicemail at 02 8011 4167
Housekeeping
Love comic books? Listen to our other show Behind The Panels at behindthepanels.net
Love Podcasts? Podcast Pillowfort at podcastpillowfort.com it's a podcast about podcasts!
Find these great shows, get merchandise, join the Facebook fan page or follow us on Twitter by going to geekactually.com.
Find more Dave at damngoodcup.com or on Twitter @davelongo
Find more me at geekactually.com or on Twitter @davidmcvay
Find more Richard at behindthepanels.net or @dvdbits
A big thanks go out to Anth Cahill for re-working The Geek Actually Theme. For more about him shoot over to www.wolfe-rayet.com
GEEK ON!