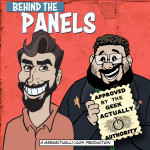 While visiting Seattle this year, Richard took the opportunity to not only visit the Emerald City Comic-Con for the first time, but talk with legendary comic book artist and writer MIKE GRELL, creator of The Warlord and Jon Sable, Freelancer.
Of course, if you've read The History of Green Arrow, or are as big a fan as Richard, you'll know that Mike Grell not only worked on the classic Green Lantern/Green Arrow run of the 1970s with Denny O'Neill, but reinvented the character as an urban hunter with The Longbow Hunters and the 80-issue series that followed it.
In this chat, we talk about those early days at DC Comics, the creation of The Warlord, Grell's approach to writing human characters, the John Sable movie, his current projects such a Tarzan and much more.
Podcast: Play in new window | Download
We would like to thank Mike Grell for his time and generosity in chatting with us at Emerald City Comic-Con in Seattle. You can find out more about him by visiting mikegrell.com.
If you've enjoyed this interview, be sure to check out our weekly podcast Behind The Panels, where we dive into the news, latest releases and our Kick-Ass Pick of the Week on every single show. You can find it on behindthepanels.net or subscribe on iTunes. 
We've also got a 7 part series of articles on the History of Green Arrow up on the site, which we're sure people who listened to this show will enjoy.
The Rest…
Have you got something to say? We want to hear from you, send email to feedback@behindthepanels.net or drop us a voicemail on (02) 8011 4167 (or use Skype ID: geekactually) and we'll play it on the show.
If you are an iTunes user, subscribe for free here and please leave us feedback.
Check out our other fine podcasts: The All-New Geek Actually Podcast & Podcast Pillowfort.
Join us on our new Facebook Fan Page, Find more by Richard by visiting TheReelBits.com or follow him on Twitter @DVDBits, and follow David on Twitter @davidmcvay  Find more Dave at DamnGoodCup.com on Twitter@davelongo. Follow Geek Actually on Twitter @geekactually for all the network news.
Make sure you check out our range of Behind The Panels swag at cafepress.com.au/geekactually
Music used in this episode includes samples from Blake Neely's "Five Years" from the Arrow – Original Television Soundtrack: Season 1
, and Joe Renzetti's theme for the 1987 Sable TV series.