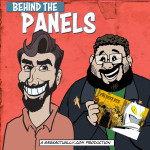 Welcome to BEHIND THE PANELS Issue 144, the comic book show that should never reveal its browser history.
In this issue, "The New 52 is dead! Long live the Multiverse!" as Richard attempts to explain the end of Convergence to the Davids. ALSO the One Million Moms group has urged Fox not to screen Lucifer. Either they are against the Satanic content, or they've suddenly developed good taste. THEN it's the rules of Fight Club 2, Alan Moore doing Lovecraft in Providence, Image's Material, the battlelines of Secret Wars and more in What We've Been Reading.
PLUS: Our Kick-Ass Pick of the Week™: The Private Eye by Brian K. Vaughn and Marcos Martin. This is BEHIND THE PANELS.
Your Hosts: Richard Gray, David McVay & Dave Longo
Next Issue (145): Batman: Earth One Volume 2 (Please note we are on a 2 week break after this episode. Next episode back is 22 June 2015)
Podcast: Play in new window | Download
For show notes in detail head over to Behind The Panels