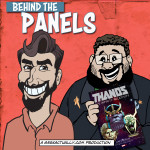 Welcome to BEHIND THE PANELS Issue 146, the comic book show that is one Infinity Gem shy of a full glove.
In this issue, it's a new star and director for the Spider-Man franchise. No, we haven't heard of either of them either. THEN it's Green Lantern: The Lost Army, We Are Robin, Fight Club 2, Secret Wars and more in What We've Been Reading.
PLUS: Our Kick Ass Pick of the Week: THANOS: THE INFINITY RELATIVITY by Jim Starlin.
Your Hosts: Richard Gray, David McVay & Dave Longo
Podcast: Play in new window | Download
Next Issue (147): We Stand on Guard #1
For show notes in detail head over to Behind The Panels