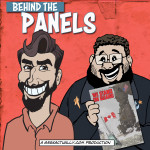 Welcome to issue 147 of BEHIND THE PANELS, the comic book show that is ever vigilant in the fight against motivation.
In this issue, Grant Morrison announces he'll write the origin story of Klaus Kinski. No wait, sorry. That's "Klaus". Grant Morrison is writing about Santa Claus. ALSO Marvel announces 45 new #1 issues for after Secret Wars. But it's not a reboot. Definitely. Not. A. Reboot. THEN it's Barb Wire, 8House, Onyx, Red Skull and more in What We've Been Reading.
PLUS our Kick-Ass Pick of the Week™: WE STAND ON GUARD #1 by Brian K. Vaughan, Steve Skroce and Matt Hollingsworth
Your Hosts: Richard Gray, David McVay & Dave Longo
Podcast: Play in new window | Download
Next Issue (148): Ant-Man (Film Special)*
*NB: We're taking a week off the show. Our next episode will be released in the week starting 19 July 2015. Try to hold on without us.

This episode carries an explicit tag for some infrequent coarse language.
For show notes in detail head over to Behind The Panels