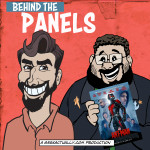 Welcome to BEHIND THE PANELS Issue 148, the comic book show that's tall for its height.
In this issue, it's all the Comic-Con news that we could remember! Some of it is not about Batman! THEN it's Lando, Death Head, Guardians Of Knowhere #1, Secret Wars, The Divine, and more in What We've Been Reading. ALSO we make a very special announcement, and then look at Harley Quinn & Joker: The Movie (and possibly some of the members of the Suicide Squad) in one of our patented  trailer commentaries.
PLUS: our Kick-Ass Pick of the Week™: ANT-MAN, the latest addition to the Marvel Cinematic Universe. This is BEHIND THE PANELS.
Your Hosts: Richard Gray, David McVay & Dave Longo
Podcast: Play in new window | Download
Next Issue (149): Howard the Duck (MAX) – The penultimate episode of Volume 1
For show notes in detail head over to Behind The Panels