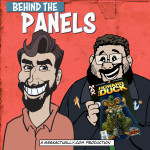 Welcome to BEHIND THE PANELS Issue 149, the comic book show that's only one episode away from retirement. What could possibly go wrong?
In this penultimate issue of Volume 1, The Walking Dead gets its own beer. It's a quick few opening sips, a really long second sip, wildly inconsistent in its later gulps, but always finishes strong with a good taste in your mouth. THEN it's Archive Vs Sharknado, Cyborg, Wolf and more in What We've Been Reading.
PLUS: our Kick-Ass Pick of the Week™: HOWARD THE DUCK (MAX), the mature readers mini-series featuring the foulest of water fowls. This is BEHIND THE PANELS.
Your Hosts: Richard Gray, David McVay & Dave Longo
Podcast: Play in new window | Download
Next Issue (150): BEFORE, DURING & AFTER WATCHMEN – The final episode of Volume 1, recorded LIVE at Good Games Hurstville on 1 August 2015
For show notes in detail head over to Behind The Panels