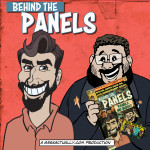 Welcome to BEHIND THE PANELS Issue 150, the comic book show that knows how to go out on a party. We're coming to you live from Good Games Hurstville.
In this 150th and final issue for Volume 1, Sydney breaks the record for the number of Spider-Men in one place. Great, now I have to check under the toilet seat for Peter Parker.
PLUS: our Kick-Ass Pick of the Week™: BEFORE, DURING, AND AFTER WATCHMEN – a look at the spin-offs and legacy of what is arguably the greatest comic book story of all time, whether Alan Moore wants us to or not.
Your Hosts: Richard Gray, David McVay, Dave Longo and guest Jaime Lawrence, Owner and Manager of Good Games Hurstville
Podcast: Play in new window | Download
Next Issue (ONE-SHOT): LIVE AT OZ COMIC-CON SYDNEY – with Special Guest Ryan K. Lindsay (Recording 26 September 2015)
For show notes in detail head over to Behind The Panels
BEHIND THE PANELS will return.