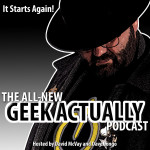 Welcome to the All-New Geek Actually Podcast Episode 17
This week we are a man down as Dave Longo couldn't join us. Even a man down we still manage to fill an hour and a half with discussions on women in the gaming world, DC Comics latest plans, Marvel Studios separating from Marvel, the Star Wars expanded universe begins again, and why didn't Evangeline Lily put on the Wasp suit. We also have trailers for Arrow season 4 and Agents of S.H.I.E.L.D. season 3. All this plus what we've been watching and reading and a review of Straight Outta Compton.
This is the All-New Geek Actually Podcast, the podcast about nothing and everything filtered through the geek perspective.
Hosted by: David McVay and Jaime Lawrence
As always this episode carries an explicit tag due to possible bad language.
Podcast: Play in new window | Download
SHOW LINKS
What We've Been Reading and Watching
Movies & TV: Jack Reacher, Kate & Leopold, You Only Live Twice, Bill & Ted's Excellent Adventure, Bill & Ted's Bogus Journey, Reading: Neil Gaiman's Trigger Warning, Squirrel Girl.
Geek News
Dan Abnett brings back classic Teen Titans
http://www.newsarama.com/25744-old-teen-titans-back-in-dcyou-abnett-gives-secret-history-to-dick-donna-etc-in-titans-hunt.html
Ask of DC and ye shall receive
http://www.newsarama.com/25766-superman-lois-clark-brings-preboot-husband-wife-back-to-main-dc-continuity.html
Adult women are the biggest demographic in video gaming?
http://www.dailydot.com/geek/adult-women-largest-gaming-demographic/
Star Wars Expanded Universe begins again with first novel Star Wars: Aftermath
http://www.slashfilm.com/star-wars-aftermath-reviews/
Why didn't Evangeline Lilly put on the Wasp suit? Here's why.
http://www.cinemablend.com/new/Why-Evangeline-Lilly-Couldn-t-Try-Her-Wasp-Costume-77947.html
Film News
Marvel Studios separates from Marvel Comics
http://www.therealstanlee.com/marvel-studios-has-officially-cut-ties-with-marvel-entertainment/
Chris Evans not giving up on Marvel either
http://collider.com/chris-evans-eager-to-extend-marvel-contract-past-avengers-4/
Agents of S.H.I.E.L.D. Season 3 trailer
https://www.youtube.com/watch?v=0-K8gjhG4K8
Arrow Season 4 trailer
https://www.youtube.com/watch?v=9EGda9EbZgc
Steven Spielberg believes Superhero movies will go the way of the Western
http://spinoff.comicbookresources.com/2015/09/02/steven-spielberg-predicts-superhero-movies-will-go-the-way-of-the-western/
John Williams' Score for Star Wars: The Force Awakens WILL NOT be released before the movie.
http://www.slashfilm.com/the-force-awakens-score-release-date/#more-313095
Film Review
"Straight Outta Compton" directed by F. Gary Gray and written by Jonathan Herman and Andrea Berloff. It Stars O'Shea Jackson Jr., Corey Hawkins, Jason Mitchell, Neil Brown Jr., Aldis Hodge, Marlon Yates Jr., R. Marcos Taylor and Paul Giamatti.
The group NWA emerges from the mean streets of Compton in Los Angeles, California, in the mid-1980s and revolutionizes Hip Hop culture with their music and tales about life in the hood. Source IMDB
Trailer: https://www.youtube.com/watch?v=Y5eg1Qu3fwo
Agree or disagree with us or you just have something to say? send email to feedback@geekactually.com or drop us a voicemail at 02 8011 4167
Housekeeping
Get merchandise, join the Facebook fan page or follow us on Twitter by going to geekactually.com.
Our Sponsor is Good Games Hurstville. Find them on Facebook or at good games.com.au/stores/nsw/hurstville
A big thanks go out to Anth Cahill for re-working The Geek Actually Theme. For more about him shoot over to www.wolfe-rayet.com
GEEK ON!