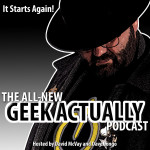 Welcome to the All-New Geek Actually Podcast Episode 18
This week we talk about the new Prime Minister of Australia, Dune's 50th anniversary, the state of the NBN, Marvel Comics, the legal problems of Star Trek Voyager's Kes and the Geek Tax. We also have the trailer for The Jungle Book. All this plus what we've been watching and reading and a review of Pixels.
This is the All-New Geek Actually Podcast, the podcast about nothing and everything filtered through the geek perspective.
Hosted by: David McVay, Dave Longo and Jaime Lawrence
As always this episode carries an explicit tag due to possible bad language.
Podcast: Play in new window | Download
SHOW LINKS
What We've Been Reading and Watching
Movies & TV: Dave on Straight Outta Compton, Dreamcatcher, American Ultra, Arrow S3, Jurassic Park, Ex Machina, End of the Almighty Johnsons.
Comics: Ben Quinlan's Takes One to Know One, Dave Longo's Inadequate Gods, Star Wars: Shattered Empire
Geek News
Other than having a Prime Minister, here is the other news.
Jesus Fuck, Marvel, can you possibly make it any more obvious what you're doing? http://www.newsarama.com/25908-terrigen-mists-revealed-to-be-killing-mutants-in-extraordinary-x-men-1-preview.html
Dune 50th anniversary
http://www.theguardian.com/books/2015/jul/03/dune-50-years-on-science-fiction-novel-world
NBN Status update
http://www.smh.com.au/it-pro/government-it/the-nbn-why-its-slow-expensive-and-obsolete-20150908-gji0pr.html
The Geek Tax
http://www.cnet.com/au/news/australia-gst-reform-online-purchases-2017/
What happened to Kes?
http://variety.com/2015/tv/news/jennifer-lien-arrested-star-trek-voyager-1201594328/
Film News
The Jungle Book Trailer:
https://youtu.be/owgrkAQ-Log
Dave Nerdgasms
http://www.comicbookmovie.com/fansites/GraphicCity/news/?a=124746
The first Jessica Jones trailer – Thoughts?
Bowie in Doctor Who?
http://www.radiotimes.com/news/2015-09-10/peter-capaldi-i-want-david-bowie-as-a-doctor-who-guest-star
Film Review
"Pixels" directed by Chris Columbus and written by TIm Herlihy and Timothy Dowling based on the short film by Patrick Dean. It Stars Adam Sandler, Kevin James, Michelle Monaghan, Peter Dinklage, Josh Gad with Brian Cox and Sean Bean.
When aliens misinterpret video feeds of classic arcade games as a declaration of war, they attack the Earth in the form of the video games. Source IMDB
Trailer: https://www.youtube.com/watch?v=XAHprLW48no
Agree or disagree with us or you just have something to say? send email to feedback@geekactually.com or drop us a voicemail at 02 8011 4167
Housekeeping
Get merchandise, join the Facebook fan page or follow us on Twitter by going to geekactually.com.
Our Sponsor is Good Games Hurstville. Find them on Facebook or at good games.com.au/stores/nsw/hurstville
A big thanks go out to Anth Cahill for re-working The Geek Actually Theme. For more about him shoot over to www.wolfe-rayet.com
GEEK ON!