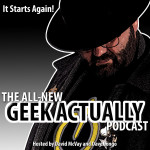 Welcome to the All-New Geek Actually Podcast Episode 19
This week we talk about giving our workforce to the robots, Grant Morrison's take on Wonder Woman, an all new Moon Knight (was it all just a dream), Watchmen coming to TV and Kevin Feige weighs in on Rhonda Rousey. All this plus trailers for The X-Files and Jessica Jones, what we've been watching and reading and a review of Ridley Scott's The Martian.
This is the All-New Geek Actually Podcast, the podcast about nothing and everything filtered through the geek perspective.
Hosted by: David McVay, Dave Longo, Jaime Lawrence, Nicholas McVay and guest Luke Lancaster
Note: We also have a great new giveaway, head here for more info.
As always this episode carries an explicit tag due to possible bad language.
Podcast: Play in new window | Download
SHOW LINKS
What We've Been Reading, Watching and Playing
Movies & TV: Pacific Rim, Doctor Who Series 9, Pan, Street Fighter: Assassin's Fist, Prometheus, San Andreas, The Muppets, Agents of S.H.I.E.L.D. S3, Star Wars Rebels, Mr Robot.
Comics/Books: Preacher, Black City
Games: X-Wing, Star Wars RPG
Geek News
Impending Robot Apocalypse News
Let's give all our workforce away in favour of robots – What could go wrong?
http://t.co/UBKbnYAPxz
Wonder Woman: Earth One has a release date:
http://icv2.com/articles/news/view/32619/wonder-woman-earth-one
Lemire writing new Moon Knight – everything was in his head?
http://icv2.com/articles/news/view/32635/jeff-lemire-to-write-moon-knight
Film News
Watchmen on TV?
http://icv2.com/articles/news/view/32660/watchmen-show-hbo
Sigourney Weaver confirmed in new Ghostbusters:
http://icv2.com/articles/news/view/32621/sigourney-weaver-ghostbusters
Kevin Feige on Rhonda Rousey:
http://au.ign.com/articles/2015/10/01/marvel-boss-responds-to-ronda-rouseys-captain-marvel-campaign
New Bond theme! (Already Pulled)
And trailers drop for:
The X-Files
https://www.youtube.com/watch?v=_1SmJUBT5q0
Jessica Jones
https://www.youtube.com/watch?v=YUDQJ3fzqTs
Jaime's wanky academic question of the week
Who is the target audience for film? When we look at a film, how does our difference from that audience affect our perceptions?
Film Review
"The Martian" directed by Ridley Scott and written by Drew Goddard based on the novel by Andy Weir. It Matt Damon, Jessica Chastain, Kristen Wiig, Jeff Daniels, Michael Pena, Sean Bean, Kate Mara, Chiwetel Ejiofor and Sebastian Stan.
During a manned mission to Mars, Astronaut Mark Watney is presumed dead after a fierce storm and left behind by his crew. But Watney has survived and finds himself stranded and alone on the hostile planet. With only meager supplies, he must draw upon his ingenuity, wit and spirit to subsist and find a way to signal to Earth that he is alive. Source IMDB
Trailer: https://www.youtube.com/watch?v=Ue4PCI0NamI
Agree or disagree with us or you just have something to say? send email to feedback@geekactually.com or drop us a voicemail at 02 8011 4167
Housekeeping
Get merchandise, join the Facebook fan page or follow us on Twitter by going to geekactually.com.
Our Sponsor is Good Games Hurstville. Find them on Facebook or at good games.com.au/stores/nsw/hurstville
A big thanks go out to Anth Cahill for re-working The Geek Actually Theme. For more about him shoot over to www.wolfe-rayet.com
GEEK ON!