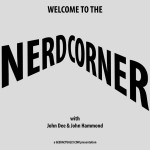 This week we don't even have a clever excuse as to why John Hammond is absent. Subsequently John Dee is joined by his nerdy mate of his 27 years, Paul Parton.
We go through the weeks nerdy news, talk about remakes for a bit and create three new hashtags #GetWellKes #HappyBirthday #NoRemakes.
But the important bit is the discussion about the arrival of the Nerd Messiah, Mr Kevin Smirth himself.
As always you can send us feedback at nerdcornerau@gmail.com or tweet us @nerdcornerau
The Show: Nerd Corner Ep14 – The Nerd Messiah Cometh
Podcast: Play in new window | Download
_______________________________________________________________
Nerd Corner is an independently produced podcast that is distributed by geekactually.com. All opinions and comments are those of the hosts and producers of Nerd Corner and are not necessarily the opinions of geekactually.com