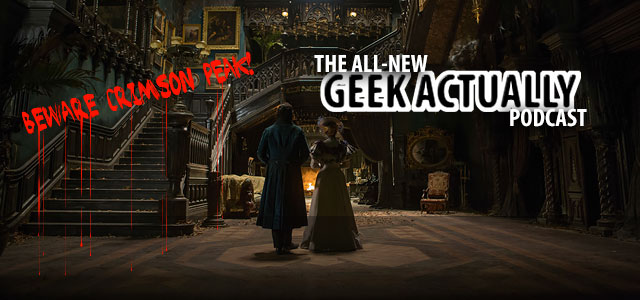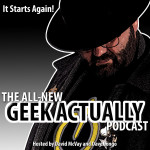 Welcome to the All-New Geek Actually Podcast Episode 20
This week Lois and Clark return to the DCU, a real life Mjolnir, Hulk news, Ant-Man hits China, Fantastic Four not coming home to Marvel any time soon, Star Wars The Force Awakens trailer news and Where's the Wookie! All this plus what we've been watching and reading, Star Wars trivia and a review of Guillermo del Toro's Crimson Peak.
This is the All-New Geek Actually Podcast, the podcast about nothing and everything filtered through the geek perspective.
Hosted by: David McVay, Dave Longo and Jaime Lawrence
As always this episode carries an explicit tag due to possible bad language.
Listen Now: Episode 20 – It Lives It Breathes It Bleeds or Subscribe for free on iTunes
Podcast: Play in new window | Download
SHOW LINKS
FaceBack – Feedback from Facebook
What We've Been Reading, Watching, Playing etc.
Movies & TV: Star Wars, Justice League: War, 7landhand, Jurassic World, Arrow S4, Flash S2, Agents of S.H.I.E.L.D. S3
Comics/Books: Alias
Games: A Game of Thrones Card Game
Test Dave's Star Wars Knowledge Trivia Game
Geek News
More details about Lois and Clark in the DCU
http://www.newsarama.com/26353-dan-jurgens-explains-the-goals-of-bringing-back-the-pre-new-52-superman-lois-for-real.html
Real Life Mjolnir
http://www.iflscience.com/technology/youtuber-builds-real-thors-hammer-electromagnets
Do you like Where's Waldo (Wally here in Oz)? Star Wars fans rejoice!
http://geektyrant.com/news/wheres-the-wookiee-is-a-star-wars-version-of-wheres-wlado
Film News
Hulk in Thor Ragnarok
http://www.comicbookmovie.com/fansites/markcassidycbm/news/?a=125967
Star Wars The Force Awakens – Full (and final) trailer this Monday!
https://news.yahoo.com/new-star-wars-the-force-awakens-trailer-coming-083958638.html
Big things expected from Ant-Man in China
http://www.comicbookmovie.com/fansites/JoshWildingNewsAndReviews/news/?a=125948
Hansel & Gretel: Witch Hunters 2 may be scrapped in favour of TV series.
http://deadline.com/2015/10/hansel-and-gretel-paramount-movie-canceled-tv-series-1201582069/
Fantastic 4 Not coming back to Marvel in exchange for X-Men TV rights; News Agencies point fingers at each other.
http://www.comicbookmovie.com/fansites/markcassidycbm/news/?a=125949
Film Review
"Crimson Peak" directed by Guillermo del Toro and written by Guillermo del Toro and Matthew Robbins. It stars Mia Wasikowska, Tom Hiddleston, Jessica Chastain, Charlie Hunnam and Jim Beaver.
In the aftermath of a family tragedy, an aspiring author is torn between love for her childhood friend and the temptation of a mysterious outsider. Trying to escape the ghosts of her past, she is swept away to a house that breathes, bleeds…and remembers. Source IMDB
Trailer: https://www.youtube.com/watch?v=4zBlG8Lv01k
Agree or disagree with us or you just have something to say? send email to feedback@geekactually.com or drop us a voicemail at 02 8011 4167
Housekeeping
Get merchandise, join the Facebook fan page or follow us on Twitter by going to geekactually.com.
Our Sponsor is Good Games Hurstville. Find them on Facebook or at good games.com.au/stores/nsw/hurstville
A big thanks go out to Anth Cahill for re-working The Geek Actually Theme. For more about him shoot over to www.wolfe-rayet.com
GEEK ON!