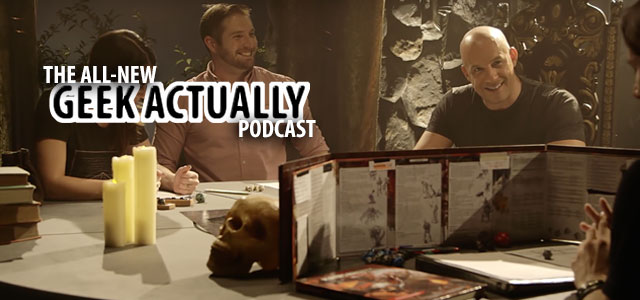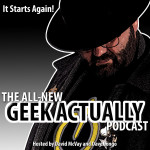 Welcome to the All-New Geek Actually Podcast Episode 21, The podcast about everything and nothing as filtered through our geek perspective.
This week Supergirl is a hit, a new Star Trek series in the works, Slave Leia toys are a thing of the past, we tell you our opinions of the Star Wars The Force Awakens trailer (as if you didn't already know!), Jaime tells us all about PAX Australia and Vin Diesel plays Dungeons and Dragons! All this plus what we've been watching and reading, Star Wars trivia, our wanky question of the week and two movie reviews, The Last Witch Hunter and Bridge of Spies!.
Congratulations to our Bring Your DC Heroes Home Competition winners (BR) Pamela L. and (DVD) Jasmine N.

Hosted by: David McVay, Dave Longo and Jaime Lawrence
As always this episode carries an explicit tag due to possible bad language.
Listen Now: Episode 21 – Special Unrated Expanded Extended Director's Cut Edition or Subscribe for free on iTunes
Podcast: Play in new window | Download
SHOW LINKS
FaceBack – Feedback from Facebook
What We've Been Watching, Reading, Playing and Probably Inappropriately Groping.
Movies & TV: Hellboy, Bones, Paranormal Activity: The Ghost Dimension, Ash Vs. Evil Dead, The Flash, Arrow, Marvel's Agents of SHIELD, Supergirl, Back in Time, Halloween.
And Jaime tells us about PAX Australia and Fragged Empire
We also finally get a chance to tell you about THAT trailer
https://www.youtube.com/watch?v=sGbxmsDFVnE
Test Dave's Star Wars Knowledge Trivia Game
Face back and Our Wanky Question of the Day: Are we obligated to watch and accept the Director's Cut over the original version of a film?
Film News
SPECTRE – It needs to be a blockbuster?
http://www.cinemablend.com/new/Ridiculous-Amount-Money-Spectre-Needs-Make-Break-Even-92437.html
A new Star Trek series in the works.
http://www.startrek.com/article/new-star-trek-series-premieres-january-2017
Supergirl debut smashes it!
http://icv2.com/articles/news/view/32955/supergirl-premiere-nets-16-million-viewers
Preacher trailer
https://www.youtube.com/watch?v=UNgI2sRzr8I
Getting rid of Slave Leia?
http://www.cinemablend.com/new/Disney-May-Trying-Eliminate-Controversial-Piece-Star-Wars-History-92237.html
Geek News
New FFG Star Wars Board Game recreating the entire conflict between the Empire and the Rebellion
https://www.fantasyflightgames.com/en/news/2015/11/3/star-wars-rebellion/
Film Review 1
"The Last Witch Hunter" directed by Breck Eisner and written by Cory Goodman, Matt Sazama and Burk Sharpless. It stars Vin Diesel, Rose Leslie, Elijah Wood and Michael Caine.
The last witch hunter is all that stands between humanity and the combined forces of the most horrifying witches in history. Source IMDB
Trailer: https://www.youtube.com/watch?v=xsuG2JUgs_8
Vin Diesel Plays Dungeons and Dragons
https://www.youtube.com/watch?v=yLEMb_RIZ3o
Film Review 2
"Bridge of Spies" directed by Steven Spielberg and written by Matt Charman, Ethan Coen and Joel Coen. It stars Tom Hanks, Mark Rylance, Amy Ryan and Alan Alda.
During the Cold War, an American lawyer is recruited to defend an arrested Soviet spy in court, and then help the CIA facilitate an exchange of the spy for the Soviet captured American U2 spy plane pilot, Francis Gary Powers. Source IMDB
Trailer: https://www.youtube.com/watch?v=2-2x3r1m2I4
Agree or disagree with us or you just have something to say? send email to feedback@geekactually.com or drop us a voicemail at 02 8011 4167
Housekeeping
Get merchandise, join the Facebook fan page or follow us on Twitter by going to geekactually.com.
Our Sponsor is Good Games Hurstville. Find them on Facebook or at good games.com.au/stores/nsw/hurstville
A big thanks go out to Anth Cahill for re-working The Geek Actually Theme. For more about him shoot over to www.wolfe-rayet.com
GEEK ON!