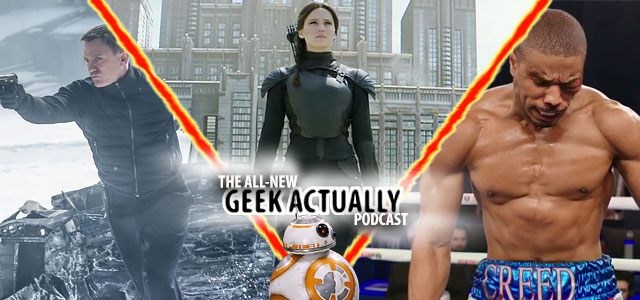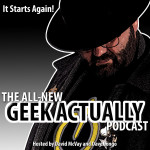 Welcome to the All-New Geek Actually Podcast Episode 22, The podcast about everything and nothing as filtered through our geek perspective.
This week the Daves try something a little different, we fly with no real net and absolutely no show notes. We have three film reviews to get through as we have been away for a couple of weeks and there have been so many Star Wars The Force Awakens TV spots that we just geek out on it all! After all this geeking out we still find time to discuss the trailer drop for Captain America: Civil War plus some Star Wars Trivia. The three movie reviews this week are Spectre, The Hunger Games: Mockingjay Part 2 and Creed.
Hosted by: David McVay and Dave Longo
As always this episode carries an explicit tag due to possible bad language.
Listen Now: Episode 22 – I'm Rey or Subscribe for free on iTunes
Podcast: Play in new window | Download
SHOW LINKS
Captain America: Civil War Trailer
https://www.youtube.com/watch?v=uVdV-lxRPFo
Film Review 1
"Spectre" directed by Sam Mendes and written by John Logan, Neal Purvis, Robert Wade and Jez Butterworth based on characters created by Ian Fleming. It stars Daniel Craig, Christoph Waltz, Lea Seydoux, Ralph Fiennes, Ben Wishaw, Naomie Harris, Dave Bautista and Monica Bellucci.
A cryptic message from Bond's past sends him on a trail to uncover a sinister organization. While M battles political forces to keep the secret service alive, Bond peels back the layers of deceit to reveal the terrible truth behind SPECTRE. Source IMDB
Trailer: https://www.youtube.com/watch?v=z4UDNzXD3qA
Film Review 2
"The Hunger Games – Mockingjay Part 2" directed by Francis Lawrence and written by Peter Craig and Danny Strong based on the novel by Suzanne Collins. It stars Jennifer Lawrence, Josh Hutcherson, Liam Hemsworth, Woody Harrelson, Philip Seymour Hoffman, Julianne Moore, Natalie Dormer, Elizabeth Banks and Donald Sutherland.
As the war of Panem escalates to the destruction of other districts by the Capitol, Katniss Everdeen, the reluctant leader of the rebellion, must bring together an army against President Snow, while all she holds dear hangs in the balance. Source IMDB
Trailer: https://www.youtube.com/watch?v=-0wdVrC4OM4
Film Review 3
"Creed" directed by Ryan Coogler and written by Ryan Coogler and Aaron Covington based on character created by Sylvester Stallone. It stars Michael B. Jordan, Sylvester Stallone,Tessa Thompson, Phylicia Rashad, Tony Bellew and Ritchie Coster.
The former World Heavyweight Champion Rocky Balboa serves as a trainer and mentor to Adonis Johnson, the son of his late friend and former rival Apollo Creed. Source IMDB
Trailer: https://www.youtube.com/watch?v=Uv554B7YHk4
Agree or disagree with us or you just have something to say? send email to feedback@geekactually.com or drop us a voicemail at 02 8011 4167
Housekeeping
Get merchandise, join the Facebook fan page or follow us on Twitter by going to geekactually.com.
Our Sponsor is Good Games Hurstville. Find them on Facebook or at good games.com.au/stores/nsw/hurstville
A big thanks go out to Anth Cahill for re-working The Geek Actually Theme. For more about him shoot over to www.wolfe-rayet.com
GEEK ON!