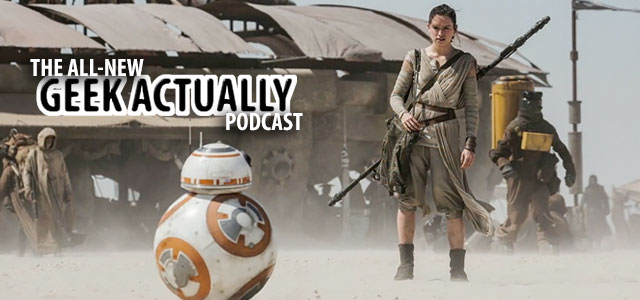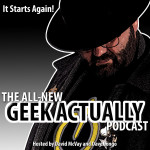 Welcome to the All-New Geek Actually Podcast Episode 23, The podcast about everything and nothing as filtered through our geek perspective.
We hope you all had a wonderful Christmas and very happy New Year. This week, after a long delay we finally get to discuss Star Wars: The Force Awakens. Just how many times did Mr. Longo see it?. We also discuss tech for the first time in four years because Mr. McVay no longer works for Apple and Ash Vs Evil Dead comes to it's season one conclusion, what did we think? And if that wasn't enough, we also give a summary of the Netflix/Marvel production of Jessica Jones.
Just a warning, this is a spoilerific episode of Geek Actually, if you have not seen Star Wars: The Force Awakens, you might want to delay listening to this show. You have been warned.
Hosted by: David McVay, Dave Longo and Jaime Lawrence
As always this episode carries an explicit tag due to possible bad language.
Listen Now: Episode 23 – The Spoilers Awaken or Subscribe for free on iTunes
Podcast: Play in new window | Download
SHOW LINKS
Film Review
"Star Wars: The Force Awakens" directed by J.J. Abrams and written by J.J. Abrams, Lawrence Kasdan and Michael Arndt based on characters created by George Lucas. It stars Daisy Ridley, John Boyega, Harrison Ford, Adam Driver, Oscar Isaac, Domhnall Gleeson, Carrie Fisher, Anthony Daniels, Andy Serkis, Lupita Nyong'o, Mark Hamill, Max Von Sydow, Gwendoline Christie and Peter Mayhew.
Three decades after the defeat of the Galactic Empire, a new threat arises. The First Order attempts to rule the galaxy and only a ragtag group of heroes can stop them, along with the help of the Resistance. Source IMDB
Trailer: https://www.youtube.com/watch?v=sGbxmsDFVnE
Agree or disagree with us or you just have something to say? send email to feedback@geekactually.com or drop us a voicemail at 02 8011 4167
On a bitter sweet note, this will be the last podcast produced by the Geek Actually Network for a few months. We are taking extended leave and we are planning the next direction for our shows. We have appreciated all the support you, the fans, have given us over the last 7 years but for the moment we have to just stop and think about our future. I hope you all understand and that this is not goodbye. I love podcasting too much to just stop, this is just a breather and preparation for the shows to come. All shows being produced by the network at the moment (Behind The Panels, The Geek Actually Podcast and Podcast Pillowfort) are now ended. Nerd Corner will continue to be put out by Geek Actually as long as John Dee continues to make them. All the best, and we will be back before you know it.
Regards, David McVay (Owner of Geek Actually)
Housekeeping
Get merchandise, join the Facebook fan page or follow us on Twitter by going to geekactually.com.
Our Sponsor is Good Games Hurstville. Find them on Facebook or at good games.com.au/stores/nsw/hurstville
A big thanks go out to Anth Cahill for re-working The Geek Actually Theme. For more about him shoot over to www.wolfe-rayet.com
GEEK ON!