Geek Actually began podcasting on July 28th 2008. In the beginning there was one show, simply called The Geek Actually Podcast. It was what is referred to as a mixed show because it contained film news and reviews, tech news and general geek stuff. Over the last two years it has morphed and changed as we got more familiar with the format of podcasting, it was split off into smaller shows that were aimed at dedicated topics such as film and tech and then in some cases the shows were re-formed and morphed into new shows. We have maintained an episode numbering system for continuities sake.
In October 2009 we started a dedicated gaming show called Platforms that ran for 35 episodes. The show was successful enough that the hosts, Josh Philpott and Dave Kozicki, have now spun that off onto their own site (rawDLC.com) and re-branded the show DLC Live. Geek Actually gaming news is now incorporated into our Geek Actually show. Although Geek Actually no longer produces Platforms, we continue to wish Dave and Josh all the best with their show and site.
In February 2010 we spun the tech section of The Geek Actually Podcast off into it's own show, called Geek Actually Tech, as an experiment for 10 episodes and it was surprisingly very successful. So, in July 2010 we officially broke that crazy mixed show up into it's separate parts. The shows were still the same as they were before (fun, informative and sometimes a little nuts) and had the same hosts, they were just a little more targeted towards the various audiences. Film lovers didn't have to sit through tech unless they wanted to and vice versa. The show structure at that time was Tech Actually (the rebranded Geek Actually Tech – tech news), Film Actually (film reviews and news) and The Geek Actually After Show (a crazy, no rules geek show that was, at times, kind of nuts).
Over time we realised that running three shows live in one day was crazy and, although we loved talking about tech, we really wanted to look at the lighter side of tech, the geek side of tech not the hard tech news of the day. So Tech Actually and The Geek Actually After Show were smashed together and turned into the simply named Geek Actually. It is a fun, geeky discussion show that not only covers tech but weird food, picks of the week and generally weird and wonderful geek stories.
The Film Actually continues as our strongest and most successful show. Now unhooked from tech, it was able to expand and now includes our weekly Lists of Five and What We've Been Watching sections.
We continue to record our shows live every Saturday afternoon from 12pm (Australian Eastern Time UTC +10). We record both shows back to back, first Geek Actually then Film Actually. Even though we record the shows live on video (geekactually.com/live) they are still designed to be audio shows and the podcasts go out on the feed and iTunes on Sunday (Geek Actually) and Monday (Film Actually). We have chatroom participation on both of the live shows and we accept calls live on air.
Just a warning though, because we speak candidly about our topics (and love to laugh), we approach all of our shows from a "real" point of view, these podcasts has to carry an "explicit tag" for bad language just in case. We don't go out of our way to swear, but sometimes it just happens and we don't like censorship.
Current Shows
Geek Actually
Geek Actually is the fusion of the old Tech Actually and Geek Actually After Show podcasts. All the tech and geek goodness that you have come to expect from the old shows wrapped up and made easier to swallow as one simple, little, tasty podcast. DeltaKnight (AKA DAvid Murray) has come on board to act as a researcher and he supplies the show with some of the geekiest stories on the web.
Every week the show takes a look at the tech news of the week plus some of the zanier things that geeks get up to. Every week we have regular sections including The Impending Robot Apocalypse Update, Picks of the Week, Weird Food, Moments in Geek History and as an occasional bonus, live on air demos of something fun. The show is hosted every week by David McVay and his co-host Josh Philpott.
Geek Actually is released every Sunday on the feed, iTunes and Stitcher Radio.
Subscribe to The Geek Actually After Show by RSS or iTunes
Film Actually
The official movie podcast of Geek Actually with regular host David McVay and his co-host Josh Philpott. There is often a guest host for shows. This podcast is for the film geek in all of us. Between them, David and Josh, have a wealth of film knowledge, trivia and passion to share. Movies and the entertainment industry are the life blood of Geek Actually and a very important part of the geek life style.
Every week we review at least one feature film (usually a new release), offer film tidbits of information, look at the latest in trailers, have our Lists of Five and explore any entertainment news that really jumps out at us. Our focus is on the love of film, film watching and having fun. Everyone needs to see more movies, all of life's questions can be answered in the movies.
Film Actually is released every Monday on the feed, iTunes and Stitcher Radio.
Subscribe to Film Actually by RSS or iTunes
 Discontinued Shows
Tech Actually (Formerly Geek Actually Tech)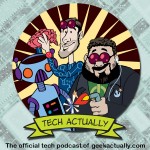 *Discontinued – Now Part of Geek Actually*
The official tech podcast of Geek Actually. Regular hosts are David McVay, Josh Philpott and Shane Gregory. Tech Actually takes a look at the news highlights of the tech week and leads into a main discussion on the topic of the week.
The discussion could be anything from Apple's latest gizmo to internet censorship and privacy. Our motto is 'Accessible Tech for Everyone'. In this technological world everyone is using it but not everyone understands it and we are here to try and help you along. We are geeks so you don't have to be.
Although discontinued, you can still find all the past episodes here at Geek Actually.
Subscribe to Tech Actually by RSS or iTunes
The Geek Actually After Show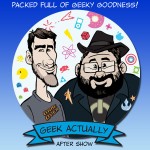 *Discontinued – Now Part of Geek Actually*
Let's get together and geek out! The Geek Actually After Show is a product of the live show, we finish the official podcasts and usually we just want to sit around an keep talking, so we thought 'why not record it?' The Geek Actually After Show is an unstructured podcast with no real rules. The regular hosts are David McVay and Josh Philpott and anyone else who is still around from the main shows.
Every week we give the same disclaimer, this is not an official show and really you should listen to Tech Actually or Film Actually first to get to know us before you listen to this show. I never thought anyone would want to listen to our random ramblings, but The After Show (for short) has become very popular for some reason. We also use The After Show for any feedback we might get and we sometimes continue discussions from the mains shows if we run out of time.
Although discontinued, you can still find all the past episodes here at Geek Actually.
Subscribe to The Geek Actually After Show by RSS or iTunes
Platforms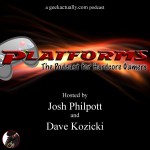 *Discontinued*
Platforms is the gaming podcast for hardcore gamers. Hosted by Josh Philpott and Dave Kozicki (with David McVay). It covers all things gaming from two guys who really know and love their games.
After a dissection of the weeks news and new releases Josh and Dave review the latest game in detail. They will not review a game until they have had a chance to really play it through.
Platforms is presented every week as a streamed video show on Ustream and then released as an audio podcast. To really get the full effect, come watch the live show and join in on the chat. Because the conversation is candid and passionate, it is uncensored, explicit, honest and very non 'PC'. This podcast has to carry an "explicit tag" for bad language. *This show is no longer being produced here at Geek Actually.*
To find out more about the re-branded show – go to rawDLC.com – You can still find all the past episodes here at Geek Actually.
All of our podcasts are released under a Creative Commons license, CC BY-NC-SA – Some Rights Reserved. For more information contact David McVay (info@geekactually.com)
NB: The cover arts for Tech Actually, Film Actually and The Geek Actually After Show are temporary, we are currently having new artwork done by Josh Spencer and it should be up soon.
---
Tech Speak – Podcast/Netcast
I recently had a friend ask me about the show, they hadn't listened to it yet because they didn't understand, "how to play this podcast thing". Think of a podcast simply as a radio show that you can download and listen to when you want to. You can either, a) just click the play button on the podcast episode post and listen to it straight on the site, or b) you can download the episode and play it on any MP3 music player of your choice (I use an iPod and iPhone but it will work on any device that plays MP3's).