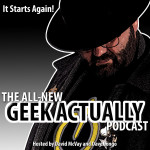 Welcome to the All-New Geek Actually Podcast
This week's episode is very late and pretty deep. What started out as a simple review of Jurassic World ended up being a pretty serious discussion about sexism in cinema and the possible over use of the word misogyny. Dave and Richard also share their thoughts on a range of films they watched at the Sydney Film Festival.
This is the All-New Geek Actually Podcast, the podcast about nothing and everything filtered through the geek perspective.
Hosted by: David McVay and Dave Longo with guest Richard Gray
As always this episode carries an explicit tag due to possible bad language.
Podcast: Play in new window | Download