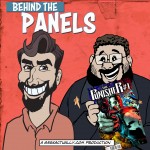 In this issue, Iron Man 4 may or may not be coming soon. In this one, Fin Fang Foom is revealed to be a cocker spaniel named Jerry. ALSO Marvel reintroduces Squirrel Girl in a storyline that's just plain nuts. THEN we decide if Sabrina, Klarion, Image's Wytches and more need to be burned at the stake in What We've Been Reading.
PLUS our Kick-Ass Pick of the Week: The Punisher by Greg Rucka with our Special Guest Andrew Constant. This is Behind the Panels.
Hosted by: Richard Gray, David McVay and Special Guest Andrew Constant
Next Week (114): Daytripper by Fábio Moon and Gabriel Bá with Special Guest Stephen Ford, Promotions Manager at Kings Comics.

Podcast: Play in new window | Download
For show notes in detail head over to Behind The Panels