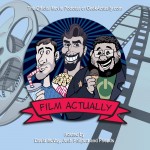 We're Back Bitches!!!! This week Hollywood Sequalises, remakes or prequels everything, Kevin Smith releases a trailer for Tusk, Josh re-enters the Bargain Basement and we have a pair of film reviews, Brett Ratner's Hercules and Snowpiercer. Film Actually is the official movie podcast of geekactually.com.
Hosts: David McVay, Josh Philpott, Richard Gray and Dave Longo
If you are an iTunes user, please leave a review. Your comments help us improve the show.
This show carries an explicit tag due to coarse language.

Podcast: Play in new window | Download
Listen or download it here or subscribe to it on iTunes Read the rest of this entry »