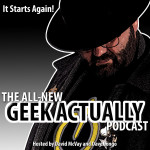 Welcome to the All-New Geek Actually Podcast Episode 21, The podcast about everything and nothing as filtered through our geek perspective.
This week Supergirl is a hit, a new Star Trek series in the works, Slave Leia toys are a thing of the past, we tell you our opinions of the Star Wars The Force Awakens trailer (as if you didn't already know!), Jaime tells us all about PAX Australia and Vin Diesel plays Dungeons and Dragons! All this plus what we've been watching and reading, Star Wars trivia, our wanky question of the week and two movie reviews, The Last Witch Hunter and Bridge of Spies!.
Congratulations to our Bring Your DC Heroes Home Competition winners (BR) Pamela L. and (DVD) Jasmine N.

Hosted by: David McVay, Dave Longo and Jaime Lawrence
As always this episode carries an explicit tag due to possible bad language.
Listen Now: Episode 21 – Special Unrated Expanded Extended Director's Cut Edition or Subscribe for free on iTunes
Podcast: Play in new window | Download