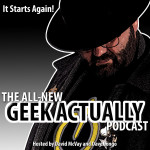 Welcome to the All-New Geek Actually Podcast Episode 15
This week we discuss Rhonda Rousey's campaign to play Captain Marvel, the Preacher TV series and Star Trek Beyond images, Patrick Stewarts new TV series, Robert Rodriguez's new film, Disney's Star Wars: Infinity 3.0 and a new miniatures game based on Doctor Who. Dave also continues his voyage through Star Trek with DS9 Season 3 and Star Trek: Nemesis. All this plus what we've been watching and a feature review of Hitman: Agent 47.
We also have free ticket to see "Fantastic Four" to give away – ENTER TODAY!
This is the All-New Geek Actually Podcast, the podcast about nothing and everything filtered through the geek perspective.
Hosted by: David McVay, Dave Longo and Jaime Lawrence
As always this episode carries an explicit tag due to possible bad language.
Podcast: Play in new window | Download