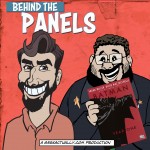 In this issue, Supergirl might come to TV, writer and beard enthusiast Alan Moore writes a book and the new Batmobile is sighted. THEN Wolverine is still not dead, things get pretty 'Fly' and 'Some Kinds of Blue' in What We've Been Reading.
PLUS our Kick-Ass Pick of the Week: Batman: Year One, which we discuss with our very special guest Ryan K. Lindsay. This is Behind the Panels.
Hosted by: Richard Gray, David McVay plus Special Guest Ryan K. Lindsay
Next Week (111): Flashpoint

Podcast: Play in new window | Download
Special Thanks
To our guest Ryan, the organisers of Oz Comic-Con for providing us with a stage and an opportunity, the folks at Kings Comics for some of our giveaway items and help with promotion and to all of the awesome people who helped make us the most attended session on Stage 4!
For show notes in detail head over to Behind The Panels